 Create
Building a sustainable legacy for the future of mountain biking Respect
Fostering respect for the environment through trail experiences Connect
Connecting the world through trails Innovate
The new paradigm in trail design
World Trail Director Glen Jacobs is the first and only Australian to be inducted into the MTB Hall of Fame.
World Trail has created over 300 km's of purpose built recreational trails in Australia.
World Trail has decades of experience within the core culture of mountain biking.
World Trail is one of the largest and most experienced MTB trail companies in the world.
World Trail has designed, planned and constructed hundreds of projects in 20 countries.
World Trail has proudly designed and constructed every World Cup, World Championship, Olympic and Enduro World Series course in Australia.
The latest evolution in pump tracks arrived in 2016, with the creation of the first asphalt pump track in Australia in the small north Queensland town of Edmonton.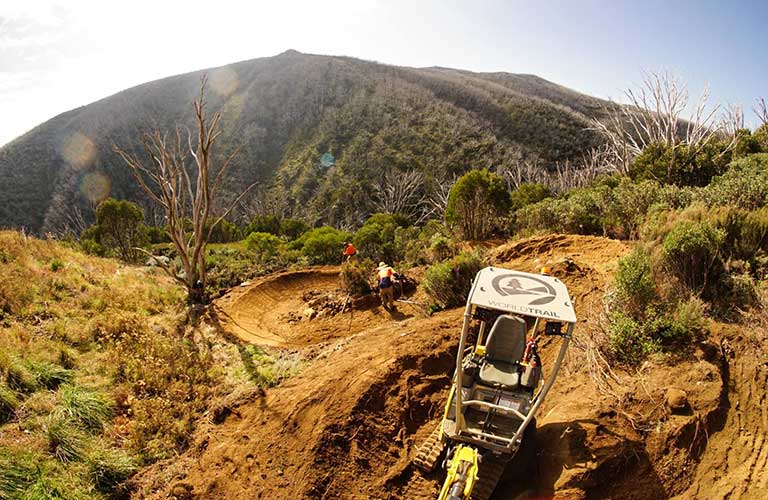 We offer a range of expert services including trail design, construction, and consultation.​
World Trail is proud to be associated with these industry-leading brands
Pick any week, and you will find Glen on top of a mountain, waterfall or island somewhere in the world. Recognition of his core passion for Mountain Biking has seen him honoured with many award, most notably being the only Australian to be inducted into the prestigious Mountain Biking Hall of Fame. As one of only a handful of Master Trail Builders in the World, an Olympic & UCI Designer, Glen helps shape the future of Mountain Biking and steers the direction of World Trail.
Glen Jacobs
Director
When he's not out fishing on the Great Barrier Reef, World Trail Director Dylan manages the Northern Office, delivering critical business management functions for World Trail. Dylan's commitment to operating an elite, professional company is a key ingredient in our strong profile within the industry.
Dylan Jeffries
Director
Gerard has been racing mountain bikes since 1992. When he's not riding, he'll either be enjoying some of Australia's finest surf nearby his ideally located Southern Office, or defining the future of mountain biking in Australia as World Trail's lead consultant. With tertiary qualifications in Science and Landscape Architecture and a background in natural resource management, Gerard is one of the most experienced trail planners in Australia.
Gerard McHugh
General Manager
Born to race downhill bikes, Rhys is a top-tier racer and former winner of the national downhill series. When he's off the bike, Rhys is Australia's foremost machine operator and trail designer. Rhys' exemplary work ethic, unique skills and long list of professional achievements form the foundation for his position as a confident, experienced and well-respected leader of our construction teams.
Rhys Atkinson
Senior Trail Designer / Machine Operator
Daniel is an avid backcountry mountain bike rider, that loves nothing better than exploring epic trails with mates, wherever he is in the world. With a Bachelor of Civil Engineering, Diploma of Local Government Administration in Asset Management and raised on all things gravity, Daniel has a solid knowledge in the physics of trail soil mechanics and a detailed understanding of sustainable trail design.
Daniel Snelgrove
Civil Engineer/Design Consultant
Strong as an ox and hard-working as they come, Max leads his team by example while emulating the work ethic of his mentors, Rhys and Ryan, as he hones his skills under the guidance of Glen Jacobs. Cutting his machine operating teeth on premium trails in both Queensland and Tasmania, Max has stamped his unique style on some of Australia's most iconic trails.
Max Connor
Machine Operator
A mountain of experience awaits you. Feel free to contact us!