We have extensive experience in all types of mountain bike trails.
Inspiring individuals & shaping communities
Our commitment to excellence
Mountain biking is not just a sport. It's a lifestyle, a community, an adventure. It's the wind against your face, the challenging terrain beneath your wheels, and the unending call of the great outdoors. We understand this deeply personal connection and strive to create the world's best mountain bike trails, embedding our passion and dedication into each trail we craft.
With over three decades of experience in professional design, we've built a reputation steeped in excellence, innovation, and quality. From the adrenaline-charged gravity trails to the awe-inspiring adventure trails, our expert team designs and constructs every trail with precision, passion, and unwavering commitment.
The transformative power of mountain biking in a community
Mountain biking is a conduit to stay active, forge lifelong friendships, and connect with nature. It instils resilience and boosts confidence.
For communities, mountain bike trails serve as economic catalysts, generating jobs and attracting visitors from across the globe. They are a testament to environmental conservation and sustainability, inspiring people to appreciate and protect the natural world. We believe in the transformative power of mountain biking to change lives and shape communities.
Crafting Diverse Experiences
The different types of mountain bike trails we build
Discover the diversity in design and adventure as we present our range of mountain bike trail types, each crafted with expert precision and a deep understanding of the rider's experience.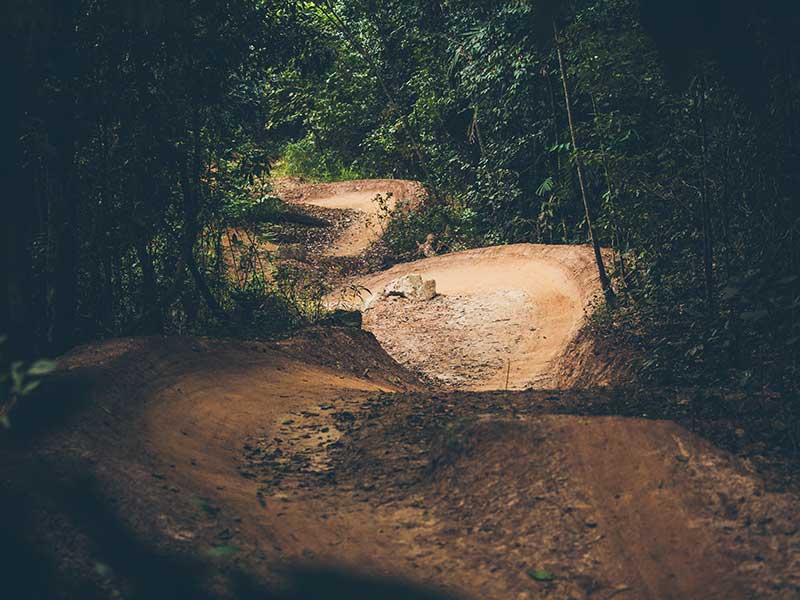 Designed for mountain bikers and hikers alike, these trails embody the essence of inclusivity and shared adventure. They offer a harmonious blend of natural and artificial obstacles, designed with a keen focus on safety and sustainability. Shared-Use Trails remind us that the joy of adventure is amplified when shared, fostering a sense of unity and respect amongst all trail users.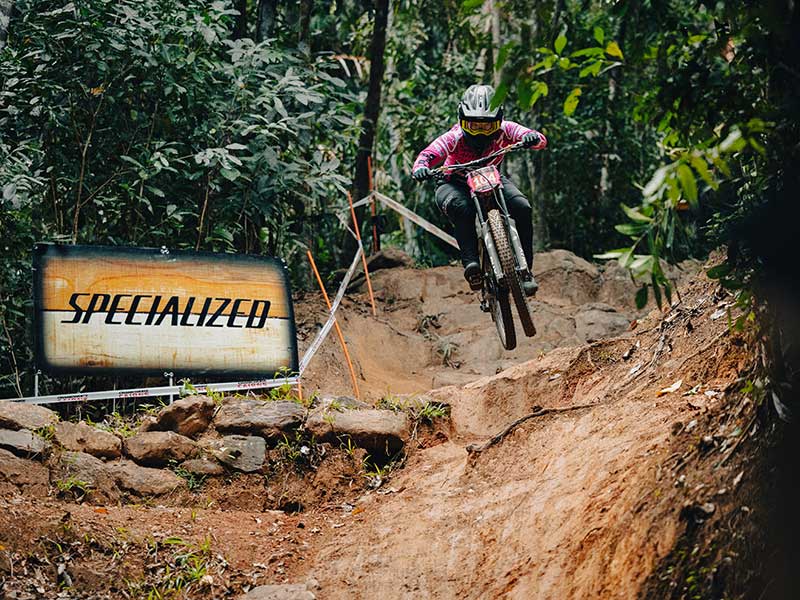 Push your limits on our Downhill Trails. These trails are a thrilling test of nerve and skill, offering a fast-paced, exhilarating descent that challenges even the most seasoned riders. Navigate steep drops, technical features, large jumps, and fast speeds as you race against gravity. Every turn, every drop, every jump echoes the heart-pounding thrill of mountain biking at its finest.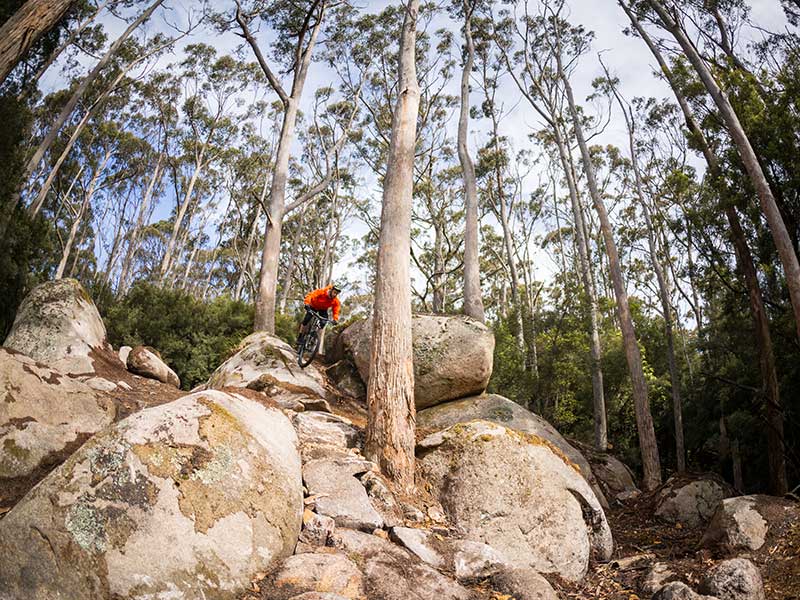 Gravity Trails are where thrill meets skill. Designed for experienced riders, these trails feature steep inclines, daring jumps, and challenging obstacles that command every ounce of your focus and courage. As you take on these high-speed, high-thrill rides, feel the exhilaration of defying gravity and pushing boundaries. In the world of Gravity Trails, every descent is a story of triumph and every ride is an adventure.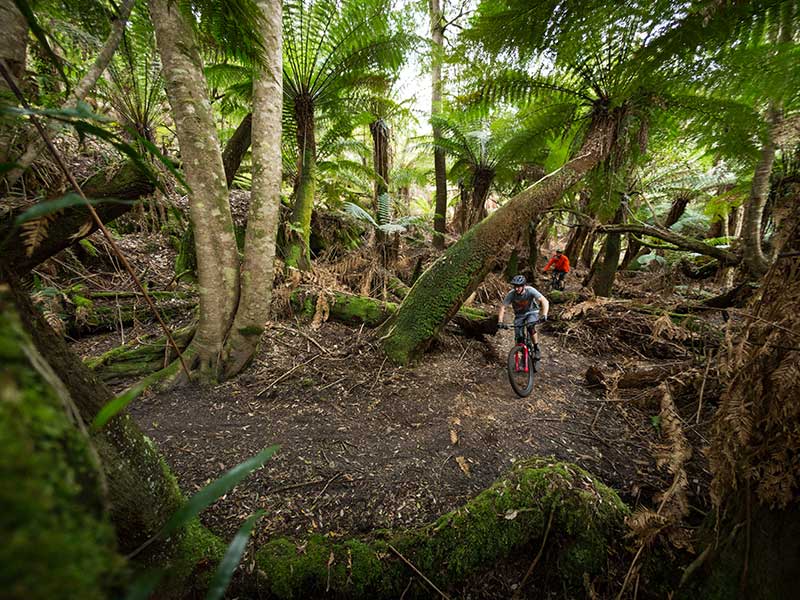 Step into the raw beauty of untamed nature with our Wilderness Trails. These trails are more than just routes; they're an invitation to experience the solitude and serenity of remote wilderness areas. Feel the crunch of leaves beneath your wheels, hear the whisper of the wind through the trees, and reconnect with the purest forms of nature. Wilderness Trails offer a unique opportunity to escape the noise and discover the tranquil harmony that only untouched nature can provide.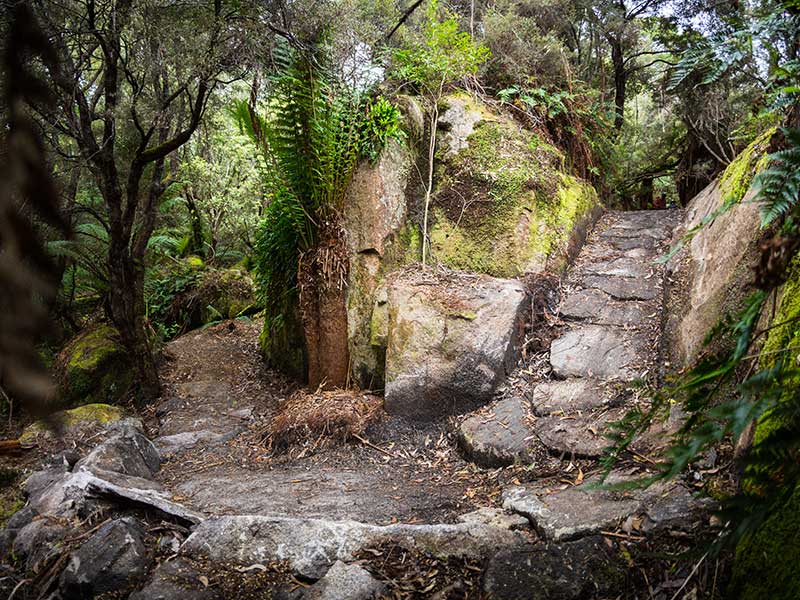 Adventure Trails are a gateway to the extraordinary. Taking riders through diverse terrain and obstacles, they challenge and inspire in equal measures. These trails are not just about the ride; they're about the journey. They're about pushing limits, testing resolve, and igniting the spirit of adventure. Feel the adrenaline pumping as you conquer each new challenge, providing an unparalleled sense of accomplishment and thrill.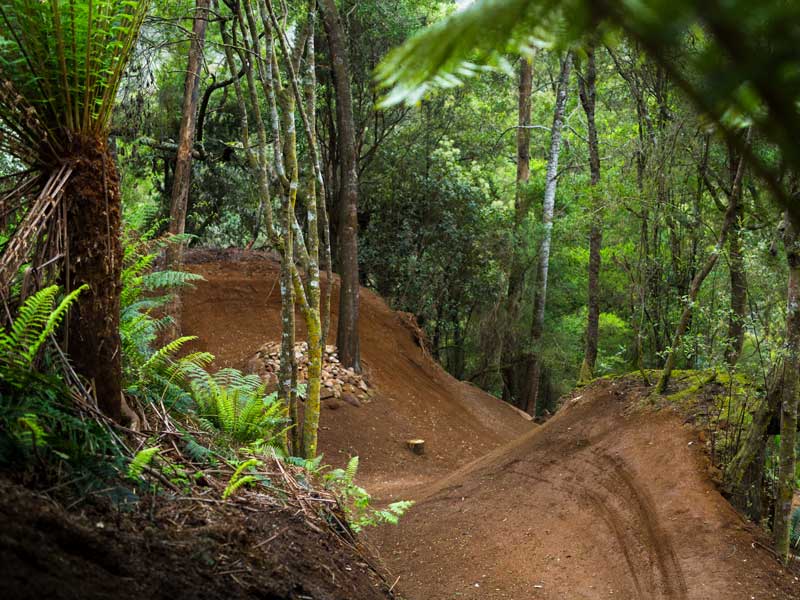 Embark on a journey where speed and rhythm sync in perfect harmony. Our Airflow Trails are designed for the thrill-seekers who crave smooth, flowing rides with minimal braking. Ideal for intermediate riders, these trails offer an opportunity to enhance speed and control, while immersing themselves in the exhilaration of the ride. Experience the sensation of flying as you navigate the carefully crafted twists and turns, embodying the true essence of mountain biking.
World-class tracks for elite athletes
Building World-Class Competitive Courses
We're not just trail builders; we're trailblazers. Our expertise in crafting competitive courses that challenge and excite athletes has been recognised on the global stage.
Over the years, we've been entrusted with designing and constructing world-class competitive mountain bike courses, including those used for prestigious events like the Enduro World Series, UCI World Championships, and Crankworx. Our courses aren't just tracks; they're experiences that test skill, endurance, and fortitude, constantly pushing the boundaries of what's possible in mountain biking. From conceptualisation to construction, we meticulously design every element to meet the exacting standards of international competition while ensuring a thrilling ride that resonates with the unique features of the local landscape.
Our competitive courses are more than venues; they are the arenas where athletes make history.
The World Trail Design & Consultation Process
Our journey begins with a visionary idea and ends in the creation of world-class trails. With our highly experienced design team at the helm, we guide your project from early concept development to detailed design and final construction. Our comprehensive consultation process ensures your trail network is tailored to users' needs, fostering a strong connection between communities and their natural surroundings.
Creating Trails that Catalyse Economic Growth
The Economic Impact of Mountain Bike Trails
We understands the transformative power of mountain bike trails to stimulate local economies. Our proven Destination Model unlocks the economic potential of a location, turning it into a thriving destination for riders worldwide. With an initial investment in trail networks, the return is manifold—boosting tourism, job creation, and community revitalisation.
Pioneering Sustainable & Environmentally Responsible Trails
Trail Building for a Sustainable Future
We believe in the power of sustainable trail building to inspire a deeper appreciation for the environment. Our dedicated team utilises cutting-edge technology and best practices to create trails that are not only low-impact but also contribute to the well-being of local ecosystems. Let us help you build recreational spaces that future generations can enjoy.
Integrating Trails into the Natural Landscape
Our trail design philosophy is rooted in a deep respect for the natural landscape. We utilise advanced technologies and methods to ensure that our trails blend seamlessly with the environment, minimising impact while maximising enjoyment. We are committed to creating trails that amplify the beauty of nature, providing an immersive experience for every user.
Journey through our trail building legacy
Showcase of success: Explore our past projects
Dive into our rich portfolio of mountain biking trails that spans the globe. Each project illustrates our commitment to excellence, innovation, and sustainable practices, from the heart-pounding descents of downhill trails to the serene paths winding through the wilderness.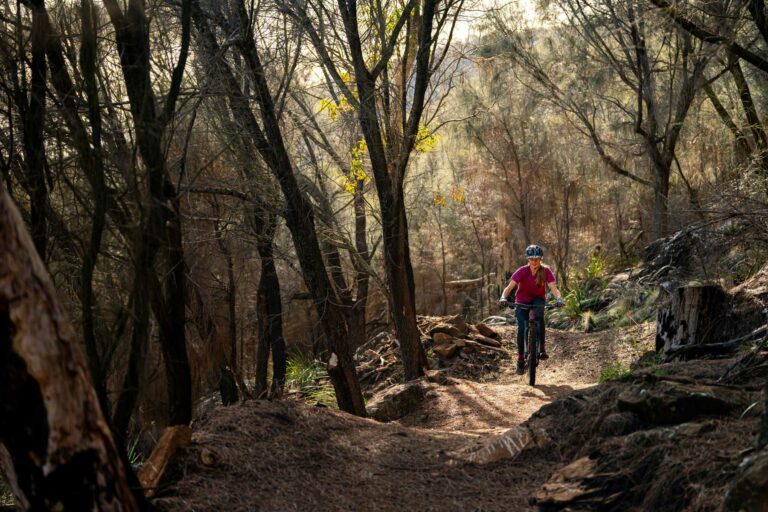 George Town, Tasmania is blossoming into a mountain biking utopia, where diverse, dynamic trails intertwine with rich culture, vibrant local life, and the untamed beauty of serene landscapes, offering riders an unparalleled journey through adventure and natural allure.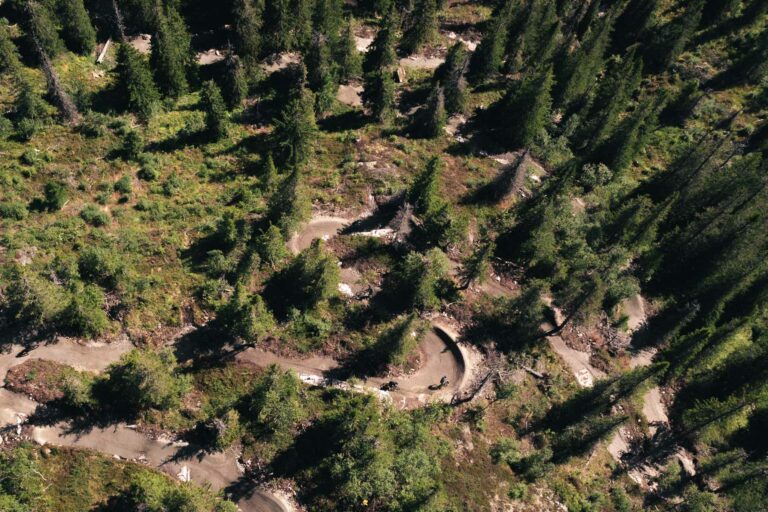 Amidst Høgevarde's cascade of lakes and waterfalls, we're sculpting Norway's largest trail network, where nature's raw beauty meets unparalleled craftsmanship.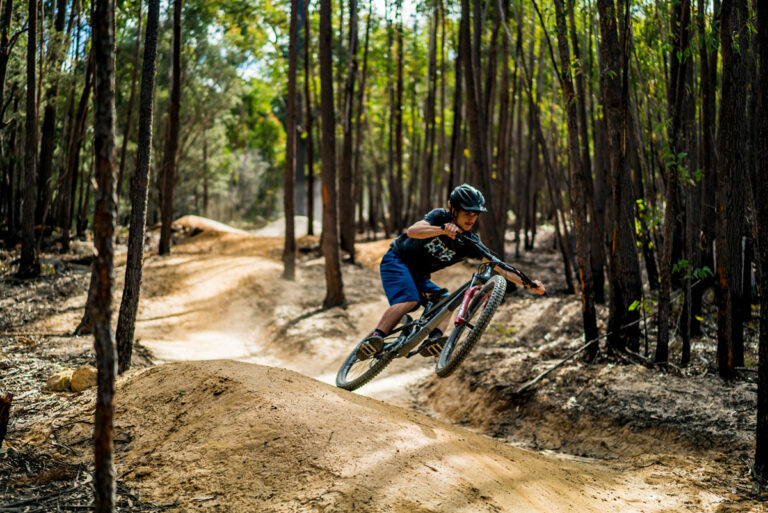 St Helens is more than just a region; it's a tapestry of natural wonders, from pristine beaches and red rocks to fern-laden valleys.