Our key achievements are of the highest level within the industry
A curated selection of our most noteworthy projects
With a rich legacy shaped over the years, we're proud of the masterpieces we've been able to deliver. Each project we embark on holds its unique challenges and rewards, and here, we've handpicked a collection of those that have been particularly significant to our journey.
From rugged mountain trails to welcoming walking tracks, from innovative skills parks to destination developments, our range of projects reflects the diversity of our capabilities. Each one is a testament to our expertise, creativity, and unwavering commitment to quality.
In every project, you'll find a balance of function and form, environmental sensitivity and aesthetic appeal. You'll see our passion for creating outdoor spaces that spark joy, inspire adventure, and foster community. But what you'll see here is just a snippet of our vast portfolio, a brief showcase of our wider body of work.
We invite you to explore these projects to glimpse the trail magic we bring to life. So go on, venture down these paths we've carved, and see for yourself the indelible marks we've left on landscapes across the globe.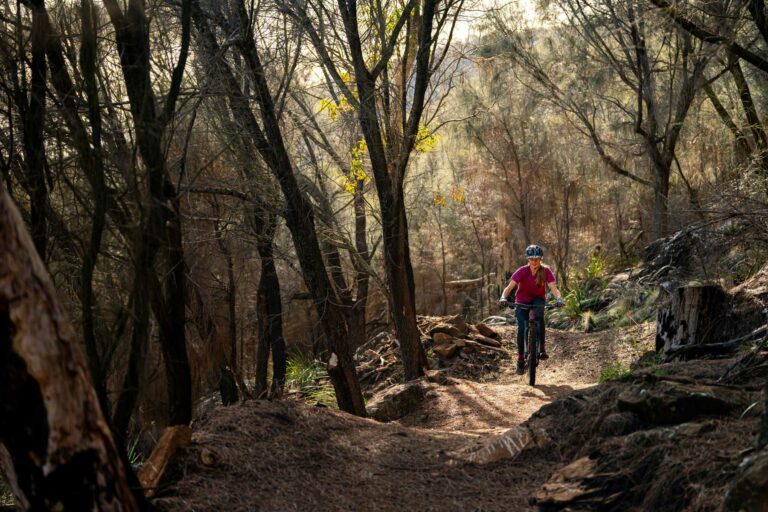 Mountain Bike Trail
George Town, Tasmania is blossoming into a mountain biking utopia, where diverse, dynamic trails intertwine with rich culture, vibrant local life, and the untamed beauty of serene landscapes, offering riders an unparalleled journey through adventure and natural allure.
WORLD-CLASS TRACKS FOR ELITE ATHLETES
The journey behind our success
Our journey started with Glen Jacobs, the first professional race track designer ever contracted by the UCI. His innovative designs and pioneering work on dual slalom and 4-cross tracks revolutionised the sport. When Glen's inventive spirit met Dylan's keen business acumen, the result was a dynamic collaboration that gave birth to World Trail.
Since these humble beginnings, our team has expanded and evolved, attracting trailblazers like Gerard McHugh and Rhys Atkinson. Each member brings a unique skill set and a shared passion for mountain biking, helping to propel our global reach and impact. Together, we've grown World Trail and played a pivotal role in steering the course of mountain biking itself. As trail architects, we've contributed to its emergence as a globally recognised and cherished sport.
This is more than a business for us—it's a journey of passion, innovation, and a deep love for the trails.